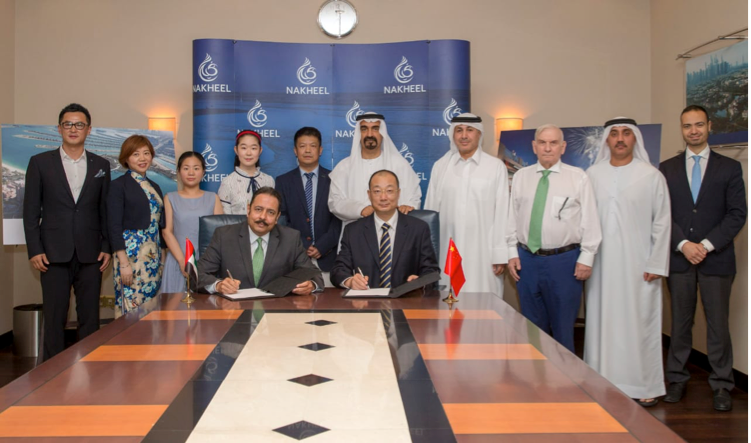 Beijing Water Design Technology Co., Ltd, as the creation, design & construction company of large marine musical fountain project in Palm Jumeirah of Dubai, officially signs the contract with United Arab Emirates' real estate developer, Nakheel Group, at its headquarter on June 11th, 2018, marking Chinese water show & creative design company's initial appearance in global top tourist destination.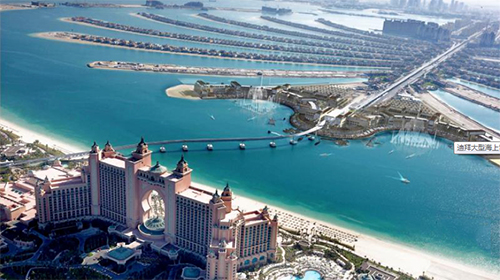 The Project is located in the Arabic Sea between Dubai Palm Jumeirah and Atlantis Hotel and watches each other with Dubai's famous extra luxurious seven-star Burj – al – Arab. Beijing Water Design Technology Co., Ltd has designed a super "4-proof marine performance platform" covering 15 thousand sqm2 in term of engineering technology, which perfectly overcomes the complicated marine environment, such as wave shocks, water corrosions, marine creature interruptions and guarantees the highly precise stable ascending and descending under the influence of wind. In the daily mode, the entire platform and the all equipment are submerged in the sea. When it is switched to the performance mode, the platform responds quickly and elevates itself to the performance height within 5 minutes. Beijing Water Design Technology Co., Ltd is going to challenge the peak of engineering technological difficulty unprecedentedly reached in the realm of global musical fountain & water show. In term of water show's landscape art, more than 800 sets of pneumatic shooters and 300 sets of digitally-controlled water show mechanical arms are going to perform a marvelous epic "marine ballet". Engineering aesthetics representing "technology" and water dance aesthetics standing for "art" will perfectly mix and collide with each other on the sea. After its completion, this project will become another global landmark landscape in Dubai as a tourist destination and demonstrate the strength that China's new cultural & creative technological innovational enterprise is capable of marching toward the world.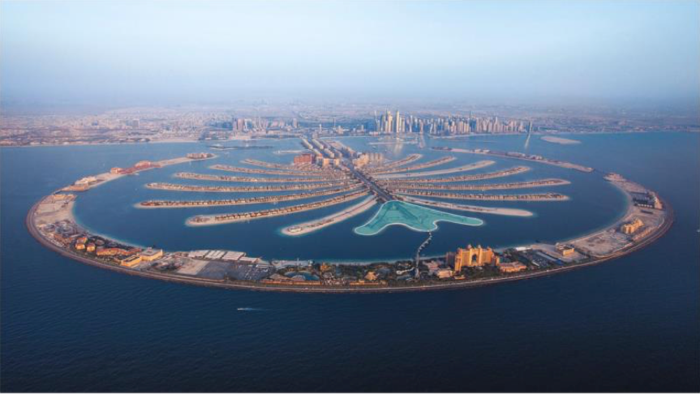 Mr. Ali·Rashid·Ruta, the president of Nakheel Group, states in the signing ceremony that the Palm Jumeirah in Dubai is known as the flagfleet project of Nakheel Group, as well as the famous landmark tourist destination in Dubai. As the newest tourism & recreation facility, the marine musical fountain project is expected to attract more tourists. As it is learned, the Palm Jumeirah, world's largest artificial island, costs 14 billion USD and features Dubai's most symbolic residential & tourism project, as well as known as "World's 8th Miracle". The Nakheel Group as the employer is noted for constructing luxurious residences in the Palm Jumeirah and ranks itself as one of the largest real estate companies in the world. After the Palm Jumeirah was built, the group restrictedly controls the criterias for buildings and landscapes with global top creative and design concepts. Having investigated over a dozen relevant European and American companies and browsed several dozens of musical fountain water show cases, the Nakheel Group, through rigid schedule comparisons and selections, tendering competitions, onsite researches, finally selects Beijing Water Design Technology Co., Ltd as the creation, design and construction company of Palm Jumeirah's large marine musical fountain project, demonstrating that Chinese companies not only advance globally in the field of construction engineering, but also are qualified and capable to compete with global top companies in large landscape & artistic creations.
Dubai is paradise the designers long for. Wherever there are splendid creative concepts, they will undoubtedly become true. As introduced by Mr. Yan Hao, the director of this project, the design of large marine musical fountain in Dubai is inspired from "the sea flower blossoming on Arabic Sea". This project will be completed and put to public performance in early 2019. China's water show artistic creation and design is going to represent a spectacular show on the world stage.
Media Contact
Company Name: Beijing Water Design Technology Co.
Contact Person: Media Relations
Email: Send Email
Country: China
Website: www.waterdesign.cn